Monday, October 27th, 2008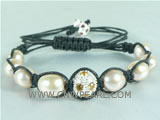 There are few accessories more elegant than pearl jewelry. Unfortunately, many people think that pearl jewelry is out of their price range, except perhaps for once-in-a-lifetime pearl bridal jewelry. The truth is, a pearl necklace, pearl stud earrings, fashion pearl jewelry, or even a pearl jewelry set can be affordable if you shop wisely. Here are some guidelines so you can know what to look for when you're selecting pearl accessories.
Natural or Cultured?
You've probably heard that some pearls are natural while others are freshwater pearls or cultured pearls. You've probably also heard that natural pearls are created around a grain of sand. In fact, an oyster usually creates a pearl as a result of something like a parasite or other irritant. Only about one in a hundred oysters naturally create a pearl, and of those, only about one in ten are quality pearls.
Cultured pearls are created in the same way – through the introduction of an irritant – but are done so in a controlled environment. As a result, cultured pearls are actually superior in quality to most natural pearls. So, rest assured that cultured pearl jewelry or freshwater pearl jewelry is just as desirable and elegant – if not more so – than natural pearl jewelry.
Grading Pearl Jewelry
Like diamonds, pearls are graded according to the different qualities they possess. Overall, pearls are graded either A, AA, or AAA, with AAA denoting the highest quality. If a pearl falls between the A and AA grades, or the AA and AAA grades, a plus sign (AA+) may also be used.
On some day, one of my friends carry a wide selection of  pearl jewelry, from pearl beads, cultured pearl strands, freshwater pearl neckalce, pearl bracelet, wholesale pearl ring, freshwater pearl earrings, other shaped pearls and cultured pearl pendant, freshwater pearl earrings to cheap sterling silver jewelry and full sets of pearl jewelry, expertly hand-crafted using only the fines pearls by pearl wholesale store to me. I am a jewelry lover, in my spara time I often find some single pearl necklace on the market and internet, especially on the internet, a various world, in there you can find whatever you want and find your interest on there..